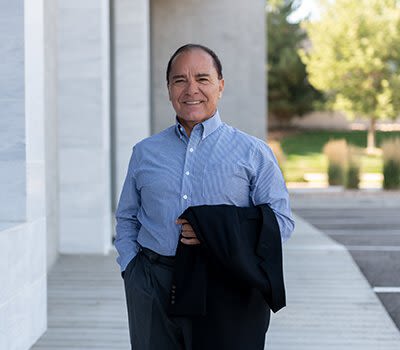 Richard graduated from the University of Colorado with a Bachelor of Science Degree in Business Administration. While he subsequently received a Scholarship for an MBA Program at Stanford University (which he respectfully declined), he then entered and graduated from the University of Denver's Law School. Upon completing law school Richard took and passed the Colorado Bar Examination, gaining admission to the practice of law in Colorado in May of 1977. Later that year, Richard also received his Colorado Real Estate Broker's License (after completing 192 hours of in-classroom instruction and passing the Real Estate Broker's Examination). Richard has been diligent about keeping both licenses continuously active since obtaining them.
Over the next few years, Richard served as a Deputy District Attorney in Arapahoe County, prosecuting numerous misdemeanor and felony cases, with approximately thirty Jury Trials and numerous trials to the bench. The following year, Richard worked for a small law firm handling numerous real estate matters, criminal cases, domestic relation matters, and contract cases.
While in the Arapahoe County District Attorney's Office, Richard taught classes at the Arapahoe Community College, including Business, Real Estate & Criminal Law courses.
From January of 1980 through December of 1982, Richard was In-house Counsel for Parking Company of America, Realty Company of America (including the managing Real Estate Broker) and Chaves Industrial Bank, formerly Lehman Industrial Bank. In this role, Richard was responsible for all legal matters relating to acquiring and selling commercial properties, including real estate litigation. He represented the Bank in all of its affairs with Colorado's Banking Commissioner's Office and was responsible for all corporate matters for all three entities, including real property acquisitions taking place in Colorado, California, New Mexico, Nevada & Canada.
The following year, Richard entered private practice with Cimino & Gonzales, P.C. As a Partner of this firm, Richard handled numerous legal matters, including:
Thousands of Chapter 7 & 13 bankruptcy cases

Cases in which he represented Creditors in the Bankruptcy Court

Real estate matters of all sorts (both residential and commercial—drafting contracts, leases, landlord-tenant disputes; overseeing related litigation; etc.)

Civil and criminal litigation of all sorts

Family law matters (including custody disputes, property division, & numerous contested hearings)

Probate cases (including probate litigation)

Legal and medical malpractice matters

Worker's compensation cases

Numerous types of personal injury cases (including auto accident cases, slip & fall cases, dog bite cases, and legal and medical malpractice cases).
Since May of 1994, Richard has been a partner with GARCIA & GONZALES, P.C., and has continued to keep both his Law & Real Estate Broker's Licenses continuously active by taking all mandatory classes required by both the Colorado Supreme Court & the Colorado Real Estate Commission. Our law firm is also in good standing with the Better Business Bureau, with no complaints or disputes from clients.